Delicious Breakfasts At The Place To Stay
Start Your Day In The Perfect Way
Sam will serve you the perfect breakfast. Everything is freshly prepared to order using the finest supplies that are free range and where possible are locally sourced.
"Breakfast was lovely and of a high quality, previous reviews had mentioned the scrambled eggs which indeed were one of the best I have ever had"
Nick GFC67, review left on Trip Advisor, June 2019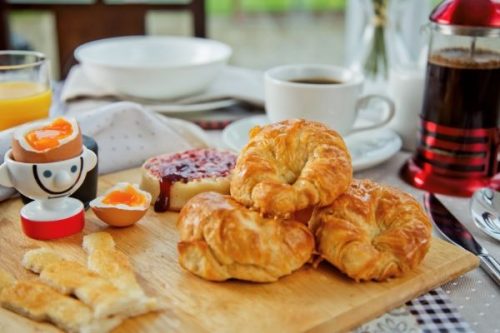 Wholesome Cooked Breakfasts
We offer a delicious choice of cooked breakfasts.
Full West Country Breakfast  ~  Grilled bacon, Somerset pork sausage, baked tomato, mushrooms, free range eggs, fried bread & baked beans.  We can poach, scramble or fry your eggs.
Vegetarian Breakfast  ~  Fresh baked tomato, sautéed mushrooms, free range egg, fried bread & baked beans.  We can poach, scramble or fry your egg.
Bacon and Egg Muffin  ~  A happy combination of bacon, cheese and egg in a breakfast muffin. A perfect start to the day.
Perfect Scrambled Eggs  ~  Our own free range eggs, lightly scrambled. Why not add a slice of bacon, too?
Boiled Eggs  ~  We can cook your eggs soft or hard boiled with toast soldiers.
Bacon or Sausage Sandwich  ~  Grilled bacon or Somerset pork sausage in a fresh bread sandwich. Would you like sauce?
"... Breakfast Was Fantastic ..."
Pauline_laver, review on TripAdvisor, July 2019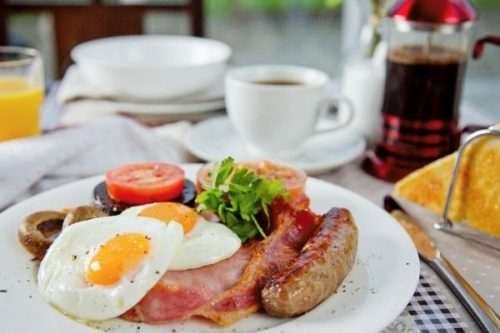 Breakfast Buffet  ~  a selection bread for toasting, jams and marmalades, croissant, fruit juices, cereals and yogurts
Fresh Homemade Porridge  ~  A healthy bowl of homemade porridge with a perfect balance of cinnamon and sugar.
All breakfast choices are subject to availability and may be withdrawn without prior notice. Products may appear differently to images shown on this page & elsewhere on this website.
A full list of the products we use for breakfast can be supplied, on request.
If you have any allergy or dietary requirements, please let us know.
" … Breakfast Very Good"
Daphnie & Ernie Fosh, review in Visitors' Book, June 2019
Enjoy your breakfast in our wonderful light and airy Dining Room overlooking our beautiful gardens and our lovely wildlife.  On fine days, you could even enjoy your breakfast outside!
For more information on our breakfasts and to discuss anything else about staying at The Place To Stay, please ring 01373 836880